Meet Ron & Sara King: Faithful Leadership Donors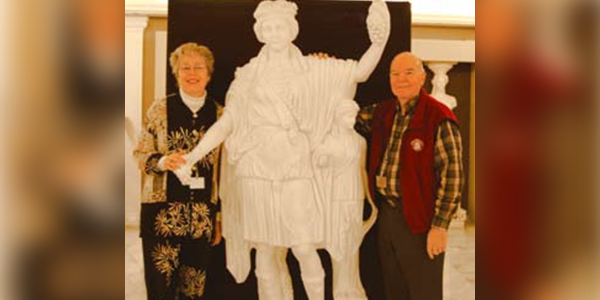 "Watch out for those Single Young Adult Groups," Ron King cautions. "You may end up doing things you never planned!" Ron speaks from experience. While in the Army in Huntsville, Alabama, he was in a Single Young Adult Group when he decided to go to seminary. Having grown up in Granite City, Illinois, Garrett seemed a natural choice.
Ron also joined a Single Young Adult Group at First United Methodist Church in Evanston, Illinois, where he was introduced to Sara Newberg. "Sara and I knew one another for one and a half years before we first dated," he says. "I guess we were checking out everyone else!" After a while, however, the group disbanded-- because Ron and Sara ended up marrying one another.
"At Howes Chapel, of course," he notes. "Now that was a successful Single Young Adult Group," he says with a chuckle.
Ron graduated from Garrett in 1965 and remains grateful for his seminary training to this very day. He still vividly recalls the day when he realized that hymns reflect the theology of the times in which they were written. "If you look at the theology of hymns, you can identify, reasonably closely, when the hymn was written. In hindsight, what else could they represent? Nonetheless, recognizing that surprised me."
Upon graduating from seminary, Ron followed a different path than many seminary graduates. He went to work for IBM, a career that lasted until he retired in 1993. "Perhaps my Garrett education was not as directly applicable to my vocation as with most graduates. But I was an enlightened member of every congregation where I was involved," he notes with a smile. "Indeed, I still believe that everyone should have at least two years seminary education."
Ron and Sara have been faithful leadership donors for years and years. "We make gifts to Garrett-Evangelical because we are able to and because Sara's parents showed us by example. Gifting benefits us more than we realize. We will continue to do so as long as we are able. We are grateful that we have the resources to do so."
In addition to their annual leadership gifts, Ron and Sara have taken out numerous gift annuities with the seminary. The gift annuities guarantee them a nice return on their gifts for as long as they live, and they help ensure the future strength of Garrett-Evangelical.
Ron and Sara have also included the seminary in their wills. Ron explains their reasoning: "We were once told by a financial planner that as parents we should spend our money on what we want rather than leave it to our kids, because we will not like the way they spend it. I would not go that far, but there is some truth to that. So that is why we have included Garrett-Evangelical in our wills."
Ron and Sara are enjoying their retirement years, spending June through October in Minnesota with their three children and nine grandchildren. Then it's off to Florida until the weather is once again tolerable in Minnesota!
They also love to travel. Beginning in 2004 Sara, an avid quilter, organized groups of quilters to travel the world and meet quilters in each country. They continue to organize travel groups, and to travel on their own as well. Ron sums up their travel philosophy with these words: "We think travel is not only for our benefit to grow in knowledge about other cultures, but it is also to help the economy of many struggling countries on this beautiful planet."
Garrett-Evangelical is blessed to have friends like Ron and Sara who are committed to helping prepare bold Christian leaders for our beautiful planet through outright gifts, gift annuities, and estate planning. If you share their commitment to preparing outstanding Christian leaders, we invite your support. For further information, visit our website, PlannedGiving.Garrett.edu, or contact David Heetland at 847.866.3970. Outright gifts, gift annuities, pledges over a five-year period, and planned gift commitments are all welcome.