An "Unlikely" Seminary Student Establishes Scholarship at Garrett-Evangelical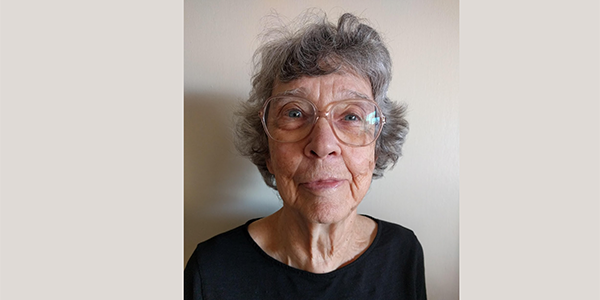 Dr. Alice Brasfield, G-ETS '69, considered herself "one of the most unlikely of candidates" when it came time to apply for seminary in the late 1960's.
To begin with, she had been out of college 11 years and had four children. She also had grown up as a Southern Baptist in Atlanta and was raised to be "a good, working-class housewife," not a seminary student.
But when her husband accepted a position of assistant professor in the physics department at Northwestern University, Brasfield found herself living in Evanston with a relatively new passion for Bible study. She had just moved from Minneapolis, where she had attended Andrew Presbyterian Church and "was introduced to Bible study in a serious way." She wanted to continue her Biblical education.
"I saw Garrett-Evangelical sitting next door to Northwestern," she remembered. "And so, I went in with fear and trembling and asked for a catalog."
She applied, and to her delight, Dean Jameson Jones accepted her as a part-time, provisional student, explaining that although she was an atypical student, he didn't want to interfere with God's work. She enrolled, taking one class at a time.
As a seminary student, Brasfield faced some challenges. She rarely had other female students in her classes because most of the women were getting a degree in Christian education. "I endured some little pranks," she said, "but I just put up with it because I wanted the education so much." She also became pregnant with her fifth child and took a year off before resuming her studies.
While at Garrett-Evangelical, Brasfield also had some victories. She won the award for best first-year Hebrew student. Additionally, some of her professors, including Rockwell Smith, Charles Kessler, Murray Loeffler, and George Buttrick, became her champions and encouraged her, especially when her husband, a traditional man, wanted her to abandon her studies. "Several professors became strong advocates for me, realizing how important it was to me that I continue my education," she said. "I am forever grateful to Garrett."
After Brasfield graduated in June 1969, she, her husband, and children moved to Los Alamos, New Mexico. There, she worked as a guest preacher. She also volunteered as a hospital chaplain at the Los Alamos Medical Center, but she had yet to be ordained. "In the Presbyterian Church, you have to have a paid job to be ordained," she said. "I tried to persuade the Presbytery to create a position of traveling preacher, so congregations would see a woman in the pulpit, but it never worked out."
Finally, she was offered a temporary, part-time job as a chaplain in the Presbyterian hospital in Albuquerque, New Mexico, and was ordained on reformation Sunday in 1975 - six years after she graduated.
Brasfield had her first call to the pulpit in 1979. By this time, she was divorced and working for Kelly Services. She went to Dixon, New Mexico, to serve a small, historical mission church tucked in the Embudo Valley. When she arrived, she realized that there was a deep rift between the Catholic and Presbyterian Churches there, and she worked to mend the divide.
While in Dixon, Brasfield decided to take a couple graduate courses in psychology. One of her professors, Vera John-Steiner, was so impressed, she offered to direct Brasfield's research if she decided to pursue a PhD. In 1983, she and her new husband left Dixon and moved back to Los Alamos so she could take courses at the University of New Mexico. She graduated in 1990. Her thesis was on women and gender, based on the many interviews she did with Presbyterian clergy women.
In 1992, she resigned her ordination because she knew she would never serve in a parish again. Since then, she has been writing and running some writing workshops. She also taught a course on women and religion at the University of New Mexico.
Although it has been almost 50 years since Brasfield graduated from Garrett-Evangelical, she recently viewed the seminary's website and liked that the faculty was diverse and that the school seemed progressive.
Her gratitude for her seminary education, along with an appreciation for what the seminary is doing now, inspired Brasfield to create a scholarship fund at Garrett-Evangelical Theological Seminary. "Garrett-Evangelical took a chance on me," she explained. "I wanted to give back."
She said she would like the scholarship to go to a student to whom it will make a real difference. "It doesn't have to be the smartest person in the class," she said. "I want the scholarship to go to someone who has an eagerness to learn, like I did."