Inara Brubaker Shares Her Story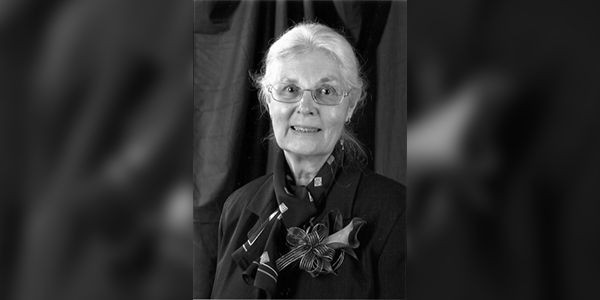 Inara Brubaker came to United Methodism and to the United States in a remarkable way. Her life journey is a story of an individual overcoming obstacles and tragedy, developing a strong spiritual center and forming a strong bond to The United Methodist Church and Garrett-Evangelical. We are glad that we can share some of her story with you.
Inara, could you tell us a little about your upbringing and how you came to the United States?
I do not come from a setting where the church was a part of our lives. I was born in Latvia before World War II and was baptized a Lutheran. My mother and I and some family friends left Latvia in 1944 as the Russian forces gathered to re-invade our country. At the end of the war, we found ourselves in Germany where we spent about five years in displaced persons camps.
In 1950, we learned through one of our friends in the camp that the First Methodist Church in Ada, Ohio, having sponsored one family, was looking to sponsor another. The church wanted to sponsor someone who would have difficulty emigrating and so the process began. The church had to make a commitment to do whatever might be necessary in the event that my mother would be unable to support me.
I came into the country with the heading of Church World Service on my ID card, and I met my first Methodist as we were being processed after arriving in New York. A woman approached my mother, embracing her like a long- lost friend. The woman and her husband were members of the McAdams family who had been sent by the church in Ada to meet the boat. That family has continued to be my extended family for more than 50 years.
Later in my life I went to Ohio Northern University (ONU) which is located in Ada. I held various jobs in order to fund my education. During my enrollment at ONU, I received a $500 scholarship from the National Methodist Scholarship Committee. I received a B.S. majoring in chemistry-mathematics; then I continued my education at The Ohio State University, receiving a M.S. and Ph.D. in Analytical Chemistry. My career was as an industrial research chemist.
Tragedy struck your life in 1993 w hen your two daughters, Andra and Erika, were killed in an automobile collision. Would you like to tell us about them?
Andra, my younger daughter, aspired to be an educator. She hoped to use her abilities as an artist and her music skills to further that goal. Her sister, Erika, was working on a graduate degree in library science with the goal of being a library staff leader. Both girls were active in church activities and youth group and were known for their volunteer efforts. Andra was scheduled to start her studies at Garrett-Evangelical after graduating summa cum laude from the University of Minnesota's honors program. She intended to teach at the university level.
Two weeks before Andra was to start seminary, she and her sister were killed in Indiana on their way to visit their only grandparent for Grandparents Day. En route, a man passed a semi; the girls avoided a head- on collision, but in so doing were killed in the resulting accident. Our church at that time, the Des Plaines (Illinois) United Methodist Church was a major support to me. Without their input, the input of my community, my colleagues, and the girls' friends, dealing with this event would have been much more difficult. For about two years, I attended group meetings of Compassionate Friends. There, as I observed how people dealt with their losses, it seemed that those with a church affiliation, a faith, seemed to cope far better.
We are very grateful to have the Andra Elaine Brubaker Scholarship at Garrett-Evangelical, which you have funded through outright gifts, an annuity, and a will commitment. Can you tell us how you came to the decision to establish this scholarship and what it has meant to you?
It was very important for me to establish this scholarship in Andra's memory. I wanted to help carry on through others what Andra, in part, had hoped to do. I think that can be best accomplished by supporting the education and the goals of individuals with aspirations that are similar to Andra's.
Establishing the scholarship through outright gifts has enabled me to see the use of my funds during my lifetime and to see the fruits of my decision. I treasure the notes from the recipients of the scholarship. Their notes express the importance of financial support in their quest toward a degree. I also like to read about the post-degree career achievements by the recipients as provided by the seminary.
After my death, through my planned gifts (annuities and will commitment), even more students will be able to receive assistance from the scholarship in Andra's name.
Tell us about your life today.
I'm active in a number of organizations, including the American Chemical Society's Chemistry and Public Affairs Committee, Ohio Northern University's Advisory Board, College of Arts and Sciences. I serve as trustee for the Bluffton Public Library and volunteer at Ten Thousand Villages, the store in Bluffton that provides vital, fair income to people in the Third World by marketing their handicrafts in North America. I also love to travel and in the last couple of years have been to Newfoundland and Labrador and to Morocco, where I took a 20-minute camel ride into the Sahara and back.
Is there anything else you would like to share? The United Methodist Church has given me much support-I cannot imagine who I would be without it.
If you share Inara's commitment to preparing leaders for the church, we inv ite your support. Outright gifts and planned gift commitments are welcome. For further information, visit our website, PlannedGiving.Garrett.edu, or contact David Heetland at 847.866.3970.