Meet John Paul Jones, Jr.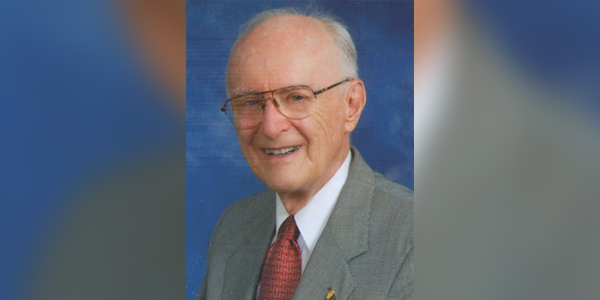 When Reverend John Paul Jones, Jr. (ETS 1948) learned how much money it cost to attend seminary, he knew that the price tag would be a challenge for many students wanting to heed God's call to the ministry.
"I thought to myself, I could never have afforded that, and so I decided, if I can help some young person go to school, I'm going to do it," he remembers. "I'm going to establish a scholarship."
In the summer of 1998, Jones and his wife established the J. Paul Jones Family Scholarship to provide financial assistance to seminary students interested in becoming ministers. The scholarship honors the memory of his father, J. Paul Jones, Sr. (who also attended Evangelical Theological Seminary) and his mother, Mary Voelker Jones. It also honors the life and ministry of Jones and his late first wife, Jean Zeiher Jones.
To Jones, the thought process was straightforward. "If you believe in the Gospel, and you want the Gospel preached, then you're going to need preachers to do it," he reasons. "And they have to have money to go to school."
Through the years, Jones has added to the scholarship fund. He has also included the scholarship in his estate plans. Between the outright gifts and the gift through his estate, this scholarship will become one of the seminary's leadership scholarships.
Jones received his call to the ministry while in high school. "I felt God pulling my heart," he says. "I wanted to be a preacher of the Gospel because that is what God wanted me to be." He started to preach at a local Presbyterian church even before he finished his undergraduate degree from Capital University in Columbus, Ohio.
Following in his father's footsteps, he went to Evangelical Theological Seminary in Naperville, Illinois, where he received a Master of Divinity degree. Jones says that he had a wonderful experience at seminary, and that it broadened his horizons. He returned to Ohio and started preaching at a church in Columbus. There he learned the importance of pastoral calling. In addition to preaching at the Sunday morning, Sunday evening, and Wednesday evening services, he also called on his parishioners in their own homes.
"Attendance went up at every church where I preached," he says. "I think part of the reason was, I went to their homes to call on them and let them know they were important." His biggest church was in Findlay, Ohio, and when he arrived, he decided he would call on everyone in the church in his first year. "Between hospital and home visits, I made 1,400 calls in the first year. After that, I made about a 1,000 a year," he says. "People need to know that you love them and care about them," he continues. After serving for 40 years full time in Ohio and 15 years part time in Missouri, Jones retired, but he continues to call on people even today in his senior lifestyle community in Lebanon, Ohio. In addition to serving his churches well, Jones has also invested his money well. Realizing he would never have a large salary, he learned to invest wisely. Happily, he says, this ability has allowed him to establish a scholarship at Garrett-Evangelical and help others-an act he hopes will inspire others to do the same thing.
If you share Jones' commitment to help someone attend Garrett-Evangelical, we invite your support. Outright gifts, pledges, and planned gift commitments are all welcome. For more information, visit our website, PlannedGiving.Garrett.edu, or contact David Heetland at 847.866.3970.