Kyle and Alice Spitzer Share Their Story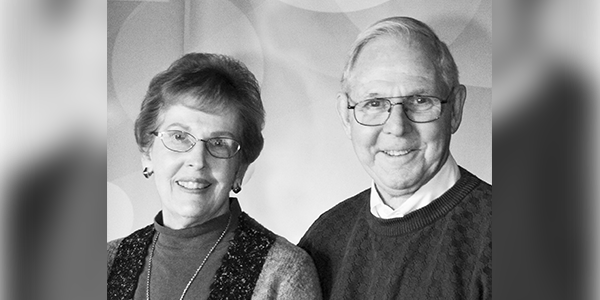 Our relationship with Garrett-Evangelical began a number of years ago when we were asked to serve on the Council of Laity as representatives from our church, First United Methodist Church of Peoria, Illinois. We had known about Garrett-Evangelical for many years because some of our pastors were Garrett-Evangelical graduates. But other than knowing that it was a United Methodist seminary, our information was limited.
We attended Council of Laity meetings and held an informational gathering in our home in 2009, which helped us understand and appreciate the vital place Garrett-Evangelical has in The United Methodist Church in the Midwest. The more we learned, the more we wanted to be part of helping Garrett-Evangelical fulfill its mission.
Every time we hear from the faculty and student body, we are more impressed. There are students from varied backgrounds, as well as a wide range in ages, and each has made a sincere commitment to strengthening The United Methodist Church or the denominations with which they are affiliated. We believe the education of this diverse student body and those students who follow them will fulfill the seminary's purpose of forming bold new Christian leaders, and we want to help with this vision through our financial commitment.
In 2010, Alice was invited to join the board of trustees. Once she accepted this position, we became convinced that a significant gift to the seminary would be necessary and appropriate to her new role as a board member. We also hoped that we could, by example, encourage others to support the seminary. With gratitude to parents who led by example and bequeathed monetarily to us we have been able to make a major unrestricted gift to the seminary in the form of a life insurance policy.
In 2011, we celebrated our 50th wedding anniversary. We were married in the Lago Community Church on the island of Aruba in the Caribbean where we were raised and attended school through high school graduation. Both of our fathers were employed by a subsidiary of Exxon/Mobil in a refinery on Aruba. We graduated together from Florida State University, and Kyle completed law school at the University of Texas. We moved to Peoria in 1967 after two years at Fort Carson, Colorado, where Kyle fulfilled his military commitment. Peoria has been our home except for four years in Waukesha, Wisconsin, where we were transferred by Kyle's employer, Caterpillar, Inc. Our church membership has been at First United Methodist Church in Peoria, except for our time in Wisconsin when we were members of Salem United Methodist Church in Waukesha.
We are blessed to have two sons and four grandchildren. One family lives in Fort Wayne, Indiana, and the other in Singapore. When our boys were young, we taught Sunday school and then moved on to working with our church youth group until our youngest son left for college. We have served on church trustees, missions, staff parish, finance, education, building committees, taught some adult education classes, served as delegates to Annual Conference, and worked on specific outreach ministries through an inner city school, Habitat for Humanity and an HIV/AIDS ministry. The church, in short, has always been an important part of our lives-and we are grateful for the opportunity to partner with Garrett-Evangelical in preparing strong Christian leaders for the future.
Gifts of life insurance are a very attractive and simple way to assist Garrett-Evangelical in preparing future Christian leaders. If you would like to learn more about giving through life insurance, visit our website, PlannedGiving.Garrett.edu, or contact David Heetland at 847.866.3970.