A Pacesetting Gift to Endow CBE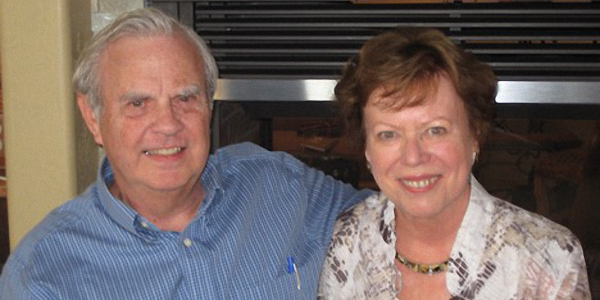 Holly Craig and Gerald Parker have been partners for many years - marriage partners and partners in making the world a better place.
They met in 1972 when Jerry was in his final year at Garrett Theological Seminary and Holly was working on a graduate degree at Northwestern University. Holly's roommate, who was also a Garrett student, introduced them to each other. They married in 1974 and pursued their respective careers in Michigan.
Jerry served seven different churches in the Ann Arbor District. He also served the larger church at both district and conference levels. In addition, Jerry was involved in numerous community activities, such as Jail Ministry, Planned Parenthood, and the Samaritan Counseling Center.
"Seminary life provided me with opportunities to broaden my own life perspectives and to realize faith was more than an individual journey, but rather a community-based love, shared with the world," Jerry said. Ministry and mission and an emphasis on relationships provided a basis for confronting the issues of the day, both locally and worldwide, as Jerry sought to do his part in making this a better world.
While Jerry served the church, Holly worked as a professor and researcher at the University of Michigan, starting as an assistant professor and moving through the academic ranks of associate to full professor and research professor. Currently she is professor emerita and research professor emerita in education at the University of Michigan and a fellow of the American Speech-Language-Hearing Association.
She devoted her career to the study of language variation and its impact on educational achievement. She mentored many undergraduate students as they developed an understanding of dialects and the positive and negative influences of non-mainstream dialects on academic success.
Additionally, Holly served as director of the University Center for the Development of Language and Literacy at University of Michigan for 24 years. She won numerous major grants from the U.S. Department of Education, the National Institutes of Health, and private foundations to fund her work. She has published extensively on the topic of Child African American English and the Black-White Achievement Gap.
So when Holly and Jerry sold their home in Michigan as part of the process of down-sizing for retirement, they knew they wanted to use the proceeds from the sale to do something meaningful that would reflect their values. Both value education (Holly has her PhD, and Jerry has an MBA and a law degree in addition to his MDiv degree). Both also have fond memories of times shared on the Garrett-Evangelical and Northwestern campuses. This led them to consider making a major gift to Garrett- Evangelical.
They became excited when they learned from David Heetland that Garrett- Evangelical was seeking to permanently endow the Center for the Church and the Black Experience at the seminary. Edsel Ammons founded CBE in 1970 when Jerry was a student at the seminary, and he was one of Jerry's favorite professors-and later his bishop in Michigan. A gift to CBE would also be consistent with Holly's commitment to improve understanding and to celebrate the African American culture and heritage in the United States.
They knew that is what they wanted to support. "Our gift is intended to honor Edsel's original vision for CBE and the center's exciting vision for the future," Jerry said.
Holly and Jerry chose to take out a $120,000 gift annuity with the proceeds from their home sale. A gift annuity will assist them in their retirement planning by providing a steady source of income each year for as long as they live. It will also enable Garrett- Evangelical to use the charitable remainder portion immediately to help fund CBE-a win for Holly and Jerry and for the seminary.
"There is great satisfaction in helping the seminary move ahead in this creative way," Holly said. "We hope others will consider joining us in this endeavor."
If you would like to see what a gift annuity would look like for you, contact David Heetland at 847.866.3970.