Orpha Laurie: Leaving a Legacy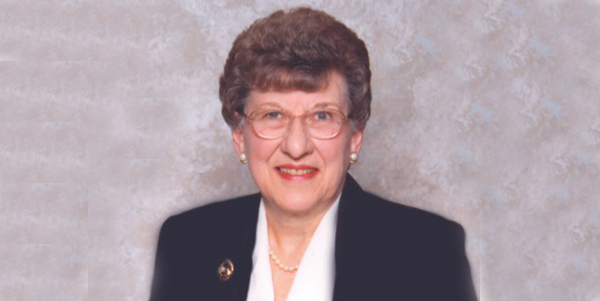 Like many couples, Orpha Laurie and her husband, John, discussed their wills and their wishes for charitable bequests at times during their marriage. They agreed that they wanted to help people in need and support projects that reflected their values. However, it was not until after John died in 2009 that Orpha realized their wills did not leave anything to charity. She decided it was time to act on their intentions.
"Since John's passing, I have become aware that life is fragile, and it is good to have things in place," Orpha said. "We agreed it is important to remember charity as well as family."
Orpha wanted to be sure she made the right choices in leaving a legacy, so she started attending seminars and seeking professional advice on the best way to leave contributions to worthy causes. She learned that, in addition to leaving a bequest in one's will, one can create a charitable trust, purchase a gift annuity, or buy a life insurance policy that names the charity as beneficiary. "My financial planner is well versed in insurance, so we chose a life insurance plan," noted Orpha. "The good thing is that you can determine a premium that fits your budget, and that determines the amount of the policy."
Having determined how to give, Orpha next set out to determine where to give. The church has been an important part of her life ever since she was a little girl growing up in rural South Dakota. Today she is retired from a career in banking, and the church remains an essential part of her life. She has been a member at Glenview United Methodist Church in Glenview, Illinois, for nearly fifty years, where she sings in the church choir and serves as the church membership secretary.
Over the years, Orpha realized that many of the pastors at Glenview were Garrett-Evangelical graduates. She was also aware that Garrett-Evangelical students served as interns at the church. So she called David Heetland at the seminary to learn about the seminary's needs and goals.
David met with Orpha and her financial planner and told them about the various goals of the seminary. Orpha knew that many of Garrett-Evangelical's students struggled financially to get through seminary. Thus, she was immediately attracted to the goal of providing more scholarship support to Garrett-Evangelical students. When she learned that she could establish the John and Orpha Laurie Endowed Scholarship through an insurance policy, she and her financial planner agreed this was a wonderful way to leave a legacy. Since Orpha and John had no children, this was an attractive way for their names-and their values-to live on after her death.
"I determined that Garrett-Evangelical would be the owner and beneficiary of the policy," Orpha stated. "I am paying the premium by sending my check to the seminary, which creates a tax benefit by making an annual charitable contribution. It is like giving an annual gift that will later on provide scholarship assistance each year to some deserving student."
Orpha smiled and then said, "In spite of the fact that the seminary is anxious to award more scholarships, David has assured me that he is praying for my longevity! In fact, he helped me to see that I could assist students now as well as in the future." Orpha is doing this by making an annual gift, in addition to the insurance premium, which is awarded each year as the John and Orpha Laurie Annual Scholarship. Orpha was thrilled to receive a thank you letter from her first scholarship recipient recently-and looks forward to the time when she can meet the recipient in person.
After she finalized her charitable estate plans, Orpha decided to help others understand how they can make sure our churches and communities have strong Christian leaders. She has written about the seminary in the church newsletter, has shared in church what she has done, and has encouraged others to consider doing likewise.
"It gives me a great sense of satisfaction to know I am leaving a legacy that reflects my values, and that students in the future will be able to pursue their call to ministry because of the John and Orpha Laurie Scholarship," said Orpha. "I hope others will consider what legacy they want to leave. I encourage them to consider Garrett-Evangelical. They are doing a great job of preparing pastors and teachers for Glenview United Methodist Church and for churches around the world."
If you would like to leave a legacy that reflects your values, contact David Heetland at 847.66.3970.