Rev. Lou Whitmer Names Garrett-Evangelical Beneficiary of Annuity Fund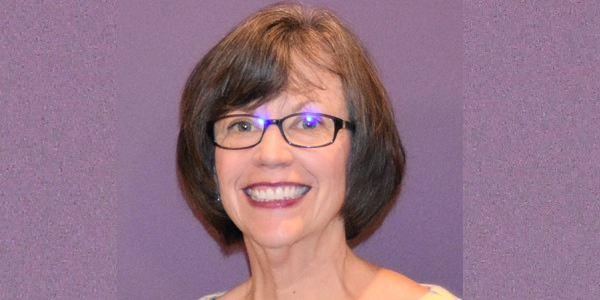 Rev. Lou Whitmer didn't follow a traditional path to ministry, graduating from college and then going onto seminary. In fact, she didn't even apply to Garrett-Evangelical's Course of Study Program until she was in her early fifties.
Nonetheless, Whitmer said she is deeply appreciative of the education she received from Garrett-Evangelical Theological Seminary - so much so she decided to name Garrett-Evangelical as a beneficiary for one of her annuity funds.
"I believe so highly in the value of a broad, deep, and nonfundamental theological education," she said. "And that's what I received at Garrett-Evangelical."
So earlier this year when Whitmer saw a Facebook post asking alumni to support Garrett-Evangelical, she started to think about giving money to the seminary's scholarship fund. She called Rev. Dr. David Heetland, Senior Vice President for Planned Giving at Garrett-Evangelical, and told him she wanted to make it possible for other people to get the same type of education she received.
"All the pastors I know who did their theological studies at Garrett-Evangelical are very balanced in their theology," she said. "I really appreciate that about Garrett-Evangelical.
Whitmer was born in Minot, North Dakota, and as a child, she moved to Hettinger, North Dakota, where her maternal grandparents lived. In about the sixth grade, Whitmer had what she referred to "as one of the most informative experiences." One evening, as she sat around a camp fire at Wesley Acres Bible Camp, Whitmer said she felt God's presence and realized, "God really does love me."
A few years later after her mother died and she became a de facto parent to her younger brothers, Whitmer leaned into that love. "As I look back, I am glad I had that connection with God," she said.
After graduating from high school in Hettinger, Whitmer earned her associate's degree from North Dakota State School of Science and later worked several years in Fargo, North Dakota.
She moved back to Minot and started attending a United Methodist Church there. Her new pastor, Jim Pomeroy, found out she served as the church pianist when she was in high school and asked her to resume her duties there. It was Pomeroy who suggested she become a pastor. "I was about 22 years old at the time when he asked me if I had considered the ministry," she recalled. "This was about 1976, and I had never been around women pastors. I didn't seriously consider it at the time, but the idea never went away."
A few years later, she moved to a different Methodist church and became the church organist, a job she kept for 31 years. All the while, she continued working as an office manager in a doctor's office and later as a gift shop owner and an administrative assistant for the music department at Minot State University. One summer day in 2006 as she was waiting for something to come out of the printer, she said aloud, "I am going to go into the ministry."
"Then, I stopped and looked around and thought, who did I just say that to?" she said. "It was such a strong feeling."
Just a few months later, she accepted an appointment in Kimball, South Dakota, a town of about 350 people. "I knew in the deepest part of myself that this was the path," she said. "This was what I needed to be doing."
The appointment was "a little complicated," she said, in that three different denominations shared the church building. In her four years there, she helped bring the denominations together under one yoke.
Midway through her first appointment, Whitmer started her coursework at Garrett-Evangelical. Because she didn't have a bachelor's degree, she was encouraged to enroll in Garrett-Evangelical's Course of Study Program. At the beginning of each quarter, she received a syllabus and a reading list from the seminary. Independently, she would read and write papers for several courses each year. In the summer, she would meet with her fellow students and faculty on campus for several weeks at a time. Once she had completed 21 classes, she would be licensed for ministry.
Although she found starting her theological studies in her 50's stressful, she enjoyed her time on campus. "I appreciated the experience so much," she said. "From the very first class, I realized that the coursework was an intellectual and critical interpretation of scripture, and I was getting all this depth and broadening of my theological understanding. It was so exciting."
After four years in Kimball, South Dakota, Whitmer took an appointment as an associate pastor at Mitchell United Methodist Church in Mitchell, South Dakota. She continued her Course of Study at Garrett-Evangelical until she was appointed pastor at North Highland United Methodist Church in Aberdeen, South Dakota two years later. Because her new church had a strong Native American membership, Whitmer wanted to learn more about Native American life and spirituality. She received permission to transfer to the Native American Course of Study, where she was one of three white students.
Whitmer finished her course of study in 2014. She went through the commissioning process and became an associate member of the Dakotas Annual Conference in 2015. Today, she continues her work at North Highland United Methodist Church in Aberdeen.
Although, there were times over the years Whitmer wished she had pursued a more traditional seminary experience and master's degree, her feelings have changed. "I am now proud of my journey and where I have ended up," she said. "And, I am really, really appreciative that Garrett-Evangelical was there for me."
If you would be interested in exploring how you too could name the seminary as the beneficiary of an annuity, insurance policy, IRA, or a 401(k) or 403(b) plan, contact David Heetland, senior vice president for planned giving, for further information. He can be reached at 847.866.3970 or [email protected] .